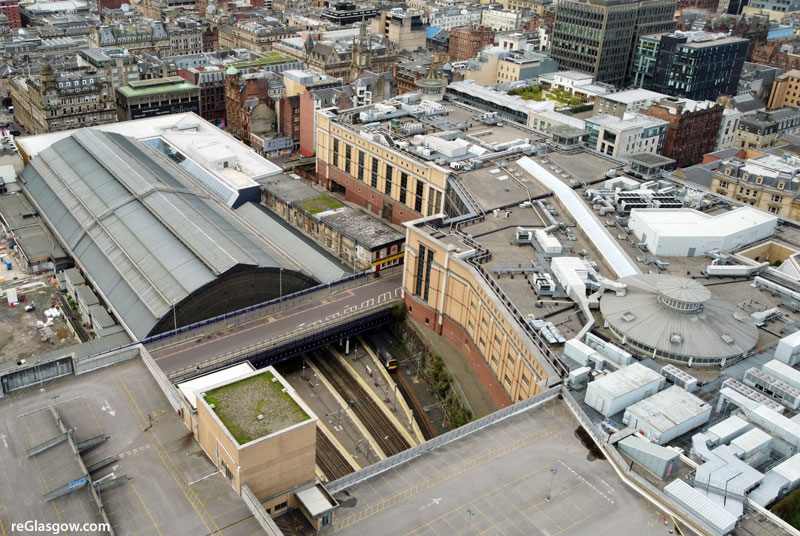 A MASSIVE redevelopment of Glasgow's Buchanan Galleries site is being proposed, including potential demolition of the shopping centre and capping the railway cutting north of Queen Street station.
Glasgow City Council is to enter into negotiations with Landsec, the head tenant of Buchanan Galleries, about turning the site into a mixed-use quarter. Landsec is proposing investment of £825milllion with the need for public investment on top of that.
While still at the concept stage, proposals, to be delivered from 2023, outline a net-zero retail, office, leisure and residential neighbourhood for the city centre.
A report to be considered by City councillors states: "Landsec envisages that these proposals will act as a post-Covid catalyst for recovery, generating jobs and wider investment into the city centre, whilst delivering a truly mixed-use 18-hour district and reintroducing city centre living and residences."
David Heaford, managing director for development at Landsec, said: "Our vision is to replace the existing shopping centre with an exciting new mixed-use urban neighbourhood in the heart of Glasgow city centre, blending world-class shopping with places to work, live and play.
"Our plans will seek to extend the city's iconic and accessible grid layout, support the city's net-zero ambitions and be informed by the needs and views of local people, visitors and businesses.
"We will be launching a wide-ranging consultation, kicking off in the spring, to help create a place that makes a lasting positive contribution to the city and all those who live, work and visit here."
Glasgow City Council, which is the head landlord of Buchanan Galleries, is considering the use of Tax Incremental Finance (TIF) to support some of the major enabling works that would be required.
This includes a proposal to construct a capping over some, or all, of the north cutting of the railway line at Queen Street Station to create a platform for either a building or a public space, in addition to public realm works in and around the area. Progressing the cap will require Landsec to obtain consent from Network Rail, and discussions for this have commenced.
The masterplan would improve access across the city centre, create high-quality active travel routes and boost linkages to Queen Street Station and other public transport hubs.
It's also hoped that the area around the Concert Hall steps at the top of Buchanan Street would be enhanced and that there would be improved pedestrian links between Buchanan Street and Killermont Street.
The council report continues: "One consideration at this point is the potential implication for Glasgow city centre if the Buchanan Masterplan is not delivered. Members should be aware of the intense commercial pressures being faced by mall operators, and the general global trend to re-vision these shopping centre footprints into mixed-use developments.
"Landsec has confirmed that retail vacancy rates are rising and even in the absence of any redevelopment proposals, lease expiries could result in a material level of vacancy within the next five years."
Councillor Susan Aitken, Leader of Glasgow City Council, said: "Glasgow, like town and city centres everywhere, is facing significant and accelerating structural changes. These initial proposals detail a response to those changes, ensuring Glasgow has a vibrant, successful and evolving city centre which continues to be the envy of our peers.
"Approval for the commencement of negotiations with Landsec would allow us to push ahead with addressing oncoming challenges and opportunities in this rapidly changing world. A 21st century city centre delivering on Glasgow's international standing and ambitions means more mixed-use developments, a greater residential population, more public spaces, sustainable transport options and more people-focused streets. The transformation of the Buchanan Galleries can be a vote of confidence on Glasgow's future."
Reimagining of the St Enoch shopping centre at the other end of Buchanan Street is also being proposed.