A MULTI-storey block with accommodation for more than 750 students is now being proposed for a site beside the M8 at Charing Cross.
Developer Watkins Jones Group has brought foward a scheme to demolish Portcullis House, India Street, and build a purely student-based complex.
It had previously put in a planning application — in August 2021 — for a 685-unit, 30-storey, build-to-rent (BTR) and co-living complex that had yet to be determined by Glasgow City Council.
The new proposal for 765 student homes will have a smaller footprint, allowing for more public space.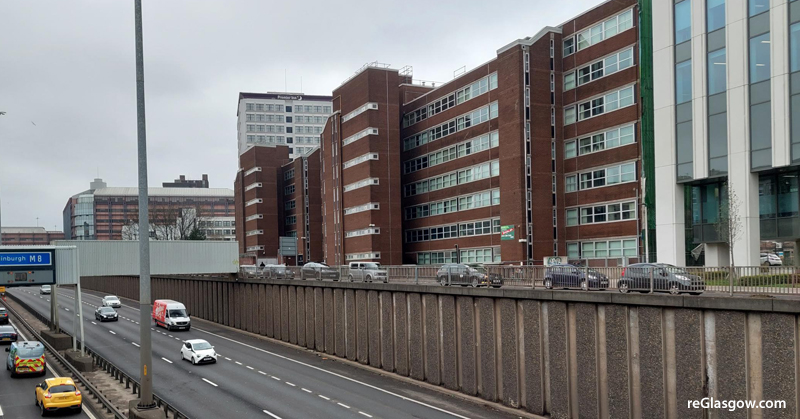 A website set up for pre-application consultation states: "This exciting proposal will incorporate a flexible commercial element, which will include a publicly accessible cafe and could also include co-working/multi-use space for local groups and organisations. In addition to this, high-quality public realm will be delivered.
"Such a development will act as a catalyst for regeneration and is being proposed by a developer with an exceptional delivery record and who has explored a number uses for the building.
"These proposals will serve to address a significant undersupply of student homes in a city which has experienced 24 per cent growth in numbers between 2014 and 2021, putting considerable pressure on limited private rented stock."
It further states: "Due to a lack of policy or guidance from the council upon which planning applications for co-living could be assessed, the existing planning application has been placed on hold.
"Watkins Jones subsequently looked to explore opportunities to integrate student homes into the proposals, replacing the co-living element and assisting in addressing an unprecedented demand for student homes. The intent was to proceed with a mixed BTR/student scheme.
"Some amendments have been made to the building design and form, as desired by planning and design officers at the council. These included reducing the scale of the footprint, increasing public realm and landscaping, and allowing greater amenity to be provided.
"This has reduced the size of the BTR element to one which would be too small for institutional forward funding and hence the decision to progress with a policy compliant purpose-built student accommodation scheme."