WORK is well underway on an £88million transformation of a large part of the East End between Calton and Dennistoun.
The regeneration centres on the former Meat Market land and includes hundreds of new homes, a park and active travel route, and reuse of historic sheds.
A masterplan approved in 2019 aims to "stitch the site back into the surrounding neighbourhood" by reintroducing existing street pattern prevalent in Dennistoun and smaller residential blocks.
A linear greenspace which accommodates an alternative pedestrian and cycling route will connect the site to the surrounding neighbourhood and to the wider area by extending environmental improvements from Collegelands and the City Centre.
Glasgow City Council officials have produced an update on various aspects of the project. It states: "The masterplan also reconnects the adjacent and on-site listed buildings and structures by opening up vistas and physical links; the Meat Market Shed is the nexus of the masterplan and plans to develop it into a new community asset are currently in development phase by three local housing associations with the support of the Council. Site remediation of the western side of the site has been concluded."
Housing Developments
A £42.6million housing development by social landlord Home Scotland is under construction on the north and east of the site, along Duke Street and Bellgrove Street.
It will deliver 252 new high-quality 'midmarket rent' homes. There will be a mixture of one and two-bedroom units across four blocks, ranging between four and six storeys.
The development also includes 20 ground-floor wheelchair accessible units and two commercial units will be built on the ground floor corner of the site at Duke Street and Bellgrove Street.
"Initial discussions have taken place with Home Scotland regarding a further phase of housing. This would be to the immediate south of the phase one. Proposals for this phase will be revisited as phase one progresses.
Meanwhile, Wheatley Group will deliver a similar number of new homes to the south west of the site, between Barrack Street and Melbourne Street, split over three phases, the first of which started on site in March 2021 and is due for completion in May 2023.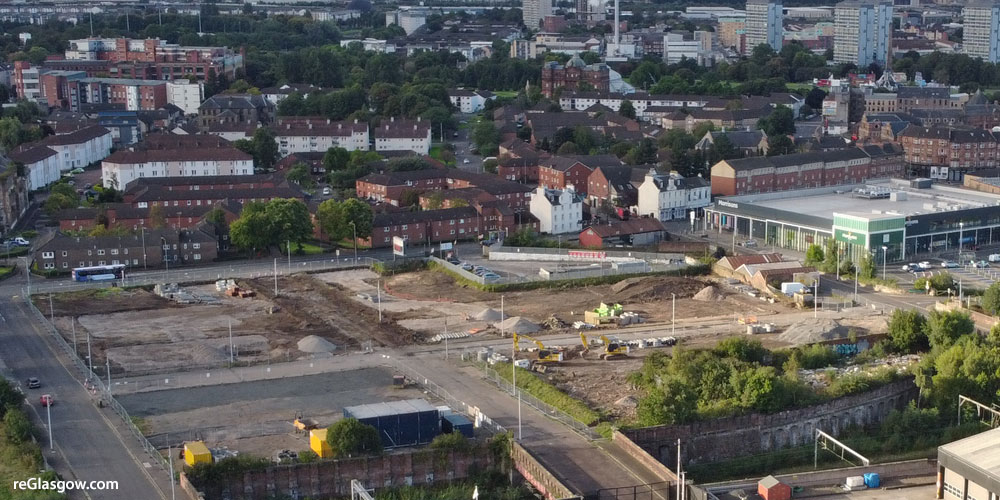 The £25million initial phase of the Calton Village development consists of 123 mid-market rent units, and is a mixture of flats and terraced houses, comprising of one to four bedrooms. It will include six wheelchair accessible flats.
Phase two will consist of 98 units, tenure to be confirmed, to be completed by the end of March 2024. Phase three of will have a further 39 units for mid-market rent.
Meat Market Sheds
The remaining substantial structures on the development site are the B-Listed wrought-iron Meat Market sheds which consist of several parallel, adjoining structures, more than 110 metres long and more than 70 metres wide in places.
They cover 7,860 square metres — an area larger than a full-sized football pitch — and are on Historic Environment Scotland's Buildings at Risk register.
The council update explains: "The retention, refurbishment and reuse of the sheds have been central to all redevelopment proposals, reflecting the desires of both the council and local communities. They have a substantial historic and social significance for this area and for the city in general.
"The three local housing associations -– Milnbank, Reidvale and Molendinar -– have been central to this process. Milnbank HA have led extensive community consultation exercises of residents and businesses in Calton and Dennistoun in particular, and this has helped focus ideas on what the sheds will deliver"
Proposals include:
— Creation of a new community-led hub acting as catalyst for the wider site regeneration
— Business start-up units will create accessible low rent accommodation
— Established East End businesses will actively participate in 'street market' or 'pop-up' on-site opportunities
— Sustainable food growing
— A social/retail offering in the former superintendent's house;
— Creation of an East End business development forum.
Home Scotland are also actively engaged in the proposals, as are other organisations including Strathclyde University. It's expected that ownership of the sheds will transfer from the council to Milnbank Housing Association, and discussions are ongoing regarding this.
Around £2.6million for the sheds refurbishment has been secured from the Scottish Government's Regeneration Capital Grant Fund. Positive decisions are expected soon regarding bids made to a variety of sources, including the National Lottery Heritage Fund, Historic Environment Scotland, the Climate Challenge Fund, and Transport Scotland.
Linear Park And Active Travel
The area immediately north of the sheds is set aside for a linear park as it is unsuitable for development because of the railway line that runs underneath it, connecting Bellgrove and High Street stations.
The design of the park is flexible and can accommodate a variety of uses includes a mixture of planting and food growing (a grant of £450,000 is available from the government's Vacant and Derelict Land Investment Programme (VDLIP) for this), drainage, pedestrian routes, a segregated cycleway and high-quality public realm.
It will connect westwards to the Collegelands student housing development and city centre, and eastwards to Dennistoun and the wider east end.
Meanwhile, Duke Street/John Knox Street are now part of the city council's Avenues programme which is turning many city centre streets into more pedestrian and cycle-friendly environments.
The estimated total cost of delivering the Duke Street/John Knox Street Avenue is £10million. Design work is scheduled to commence late 2021/early 2022 with construction scheduled to start early 2024. It is expected that construction will take around 24 months to achieve full completion.