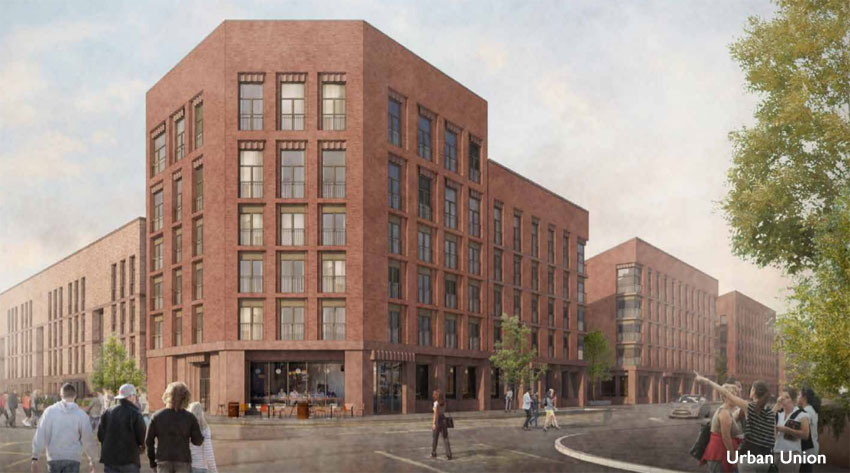 THE go-ahead has been given for almost 350 new flats and houses, the third phase of regeneration in the Laurieston area of Glasgow.
Developer Urban Union has been given permission to build 42 houses and 307 apartments on a site bounded By Eglinton Street, Gorbals Street, Norfolk Street and Cumberland Street.
The development will have one and two-bedroom flats plus three and four-bedroom houses, all for private sale. It will also include commercial units and a new section of linear park suitable for neighbourhood activities.
"There is an ongoing commitment to high quality, crafted architecture, public realm and landscape that is well connected to its local and wider context.
"The development of phase three will have a huge impact at street level, particularly revitalising Norfolk Street and establishing the front edge of Laurieston as characterful, vibrant and active."
The eastern portion of the site was previously occupied by high rise towers. The western side currently has car parking and the Skills Academy building which is being utilised by the Citizens Theatre during its redevelopment.
The design document states: "The height of the proposals steps up from the interior to the perimeter edge, creating a bolder urban scaled architecture to the key frontage of the development along Norfolk Street.
"The three-storey housing terraces, appropriately scaled to sit beside Phase 2 neighbours, are bounded by four-storey blocks to Gorbals Street and the eastern edge of the park, and five-storey apartment blocks to Norfolk Street." Elements of the development will also have six storeys.
The statement added: "The proposals seek to encourage permeability and identify a number of informal routes, as well as main thoroughfares.
"We have sought to establish an east-west route, meandering from Bridge Street Subway to the Citizens [Theatre], via the park, and along Norfolk Court, rather than people walking around the development.
"The new section of the linear park will be a primary route, but additional north-south permeability is promoted between the apartment blocks on Norfolk Street which will accommodate pocket gardens and align with the terraced streets to the interior.
"Gorbals Cross will be a recognisable corner, visible on approach from the city, identifying the primary edges of the whole development."
"A strong building edge will define Gorbals Street and Norfolk Street as the primary urban frontages of the development.
"An active edge is established on Norfolk Street with ground-floor commercial units providing a range of possible uses, like workspace or retail space."