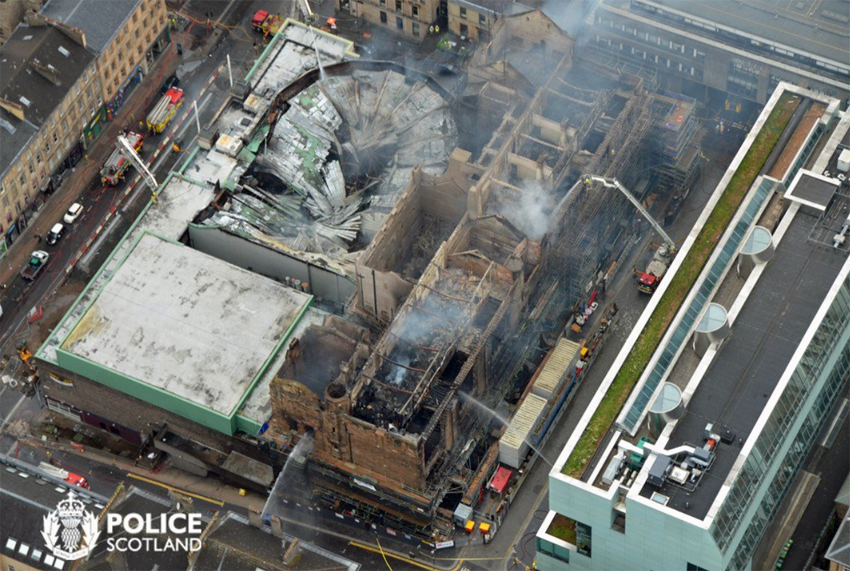 THE Glasgow School of Art's fire-ravaged Mackintosh building should be 'faithfully reinstated', according to a newly-published strategic outline business case.
A massive blaze engulfed the building in Renfrew Street in June 2018, at a time when it was still being restored after a fire in 2014.
The strategic outline business case (SOBC) is the first stage in a comprehensive and structured process and considered a wide range of options which were analysed and rigorously assessed.
The school of art stated: "Through extensive consultation and robust economic analysis, the SOBC demonstrated that the best option is to undertake a faithful reinstatement within the practical constraints of the regulatory environment, while innovating to make sure that digital technology and sustainability are at the building's heart.
"The preferred option addresses the key success factors in each of the areas of the business case and will benefit the nation, students, the community, academia and the economy by delivering the GSA's academic objectives."
The preferred option will now be further considered.
Director of The Glasgow School of Art, professor Penny Macbeth, said: "The GSA is one of only three UK Art schools to consistently rank in the top ten of the influential QS world rankings for Art and Design.
"The original Art School building is synonymous with The Glasgow School of Art and it was central to the GSA's learning, teaching and research for over a century, as well as being an important part of Glasgow's cultural life and heritage.
"One of the recommendations of the Scottish Government's Culture Tourism Europe and External Affairs Committee report was that we should examine a range of options for the future of the building, and the Strategic Outline Business Case has done just that, subjecting each of them to a rigorous analysis."