THE proposed transformation of Glasgow's high-profile Met Tower site now includes a 10-storey office block instead of a hotel.
Developers Bruntwood SciTech plan to refurbish the former City of Glasgow College building and construct an adjoining tower, collectively creating a new technology and digital hub.
It's expected that the £60million investment will bring the current Grade B-listed building back into use in summer 2025, following a 10-year period of vacancy followed by the new accommodation a year later.
Combined, the two towers will offer more than 200,000 sq ft of serviced and leased office space for the city's tech sector.
Enabling works are already underway, with work on Met Tower expected to commence this winter, subject to planning approval.
Permission to refurbish Met Tower for offices and building an 11-storey hotel was given in December 2020.
Under the new plan, Met Tower will be a commercial hub where tech and digital university spinouts, start-ups, scale-ups, and high-profile tech businesses can co-locate and benefit from being part of an innovative, collaborative tech cluster, with world-class workspace available for two people through to large businesses requiring multiple 10,000 sq ft floors.
Facilities will include a 16-person boardroom, flexible breakout spaces, a wellness and treatment room, grab and go cafe, and multi-faith room.
Met Tower's distinctive 'upside down boat' roof structure will be retained and transformed into a 60-person lounge and double-height event space with floor to ceiling windows.
Leased accommodation available on the first floor will have its own private entrance on to a new plaza space, whilst the 13th floor will have a unique, private staircase directly into the lounge and event space above.
The 95,000 sq ft new 10-storey tower will offer medium-large office spaces, along with breakout space opening out into the new plaza, a grab and go cafe, speed gates for additional security, a secondary retail space, and a roof terrace, with direct access into all facilities in Met Tower.
Both buildings will be interconnected by a double height atrium which will provide wellbeing and leisure facilities, including a wellness workout studio and wellbeing breakout lounge, showers, changing facilities and a sports kit drying room, and a large internal secure cycle store with repair and maintenance stations.
The landscaped space between the buildings and in front of Met Tower will become public open spaces for the city to improve connectivity to and from the neighbouring Queen Street station on North Hanover Street.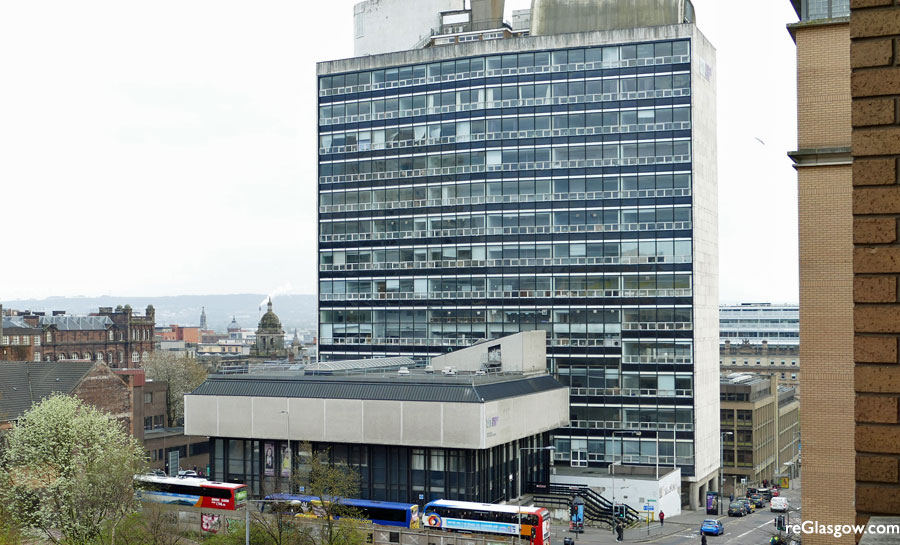 Pete Crowther, property director of Bruntwood SciTech, said: "Met Tower is the perfect location to build a new tech and digital cluster in Glasgow; not only is it located a mere 50 metres from Queen Street Station, it's in the heart of the Glasgow City Innovation District surrounded by two exceptional universities and the college, where future talent and some of the most exciting university spin-outs in Scotland and all of the UK can be found.
"We've already been establishing relationships so that as soon as Met Tower opens its doors, businesses have direct access into places for collaboration opportunities and to access highly skilled STEM [Science, Technology, Engineering and Maths] talent.
"We're delighted to reach this milestone and unveil our vision for Met Tower and the new building, where there will be world-class spaces available for all sizes of tech and digital business, all with the same access to a host of standout facilities and amenities.
"We know that Glasgow is on its way to becoming a world-leading hub for tech and hope Met Tower can support in galvanising this momentum."